BLOG
In the third Show of Practical Bull, David Morgan is put into the hot seat to take on the toughest arguments against precious metals. With David entering the intellectual boxing ring, we want to know whether you thought the Precious Metal Bears or Bulls took home the intellectual boxing match. So visit our www.practicalbull.com and vote on which side won the match. Also sign up for our newsletter and get a chance to win a free copy of Get the Skinny on Silver by David Morgan.
In the second episode of Practical Bull Radio, host Josh Renfro talks to CEO Erik Weir of WCM Global Wealthabout the lost decade and how investing in bear markets require very different strategies from the 1980's and 1990's. In the second half of the Josh talks with Jim Willie author of the newsletter on QE3 and the sweeping effects that it will have on gold, silver, commodities, and the broader market. Additionally, Josh and Jim discuss the Feds underlying motives and the truly evil acts that are being perpetrated and what is the end game for the Fed.
If you enjoyed our latest episode please like it on youtube, share your opinions on youtube, and share the video with your friends.
In the first episode of Practical Bull Radio, host Josh Renfro talks economics with Financial Strategist, Andy Sutton of Sutton & Associates. Then, Mike Niehuser, founder of Beacon Rock Research & regular contributor to Practical Bull, speaks with Balmoral Resources President & CEO, Darin Wagner in regards to the drill results just recently made public.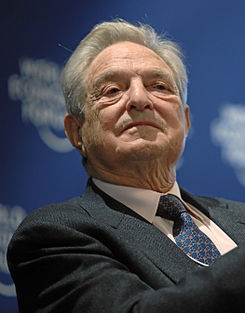 During the second quarter of this year two of the most notable billionaires, Paulson and Soros amassed large quantities of gold.  Over the past few years we have increasingly seen more and more of the affluent dive into gold.
In this particular case former treasury secretary, John Paulson, increased his holdings of SPDR Gold Trust by 26%.  This represents a much larger clearer vote of confidence when you consider that of the $21 Billion hedge fund run by Paulson has 44% of its assets tied up in gold bullion.  This is a big statement coming from our former US Treasury Secretary.
Additionally, noted billionaire George Soros doubled his holdings in gold.  The Soros Fund Management LLC raised its stake to 884,400 shares. Ironically, spokesmen for both financial mammoths declined to comment earlier this week on their recent acquisitions.  As much as I dislike George Soros, he is a brilliant man and when he invests it is extremely important to see where he goes.
Finland's Prime Minister came out this morning in an interview and made some very important statements regarding leaving the EU.  In this weeks Strategic Silver Investor Weekly Report we discuss the impacts of an EU break up on the broader market.
On this weeks SSIWR, we discuss the impact of last week European Summit and what effect it is likely to have.  Was it the catalytic event that we have been waiting for to change the momentum of gold, silver, and the broader market?  Or is it another meaningless action?  Find out on this weeks report!
This week we discuss the impact of the Federal Open Markets Committee Meeting and where this leaves the gold and silver market as well the market in general.  We also discuss some of China and Russia's latest moves in regard to gold.
This week we discuss silver's current position, the dollar flag pattern, June 1st, additional QE and how all of these things are continuing to progress.
This week we discuss the very important formation of the European Stability Mechanism. This entity is getting very little attention in the media, but the implications of its potential formation are enormous.
This article is a repost from http://demonocracy.info.  I felt it was extremely helpful for us to understand just how large the derivative market is.
1 Trillion Dollars
$1,000,000,000,000 – When they throw around the word "Trillion" like it is nothing, this is the reality of $1 trillion dollars. The square of pallets to the right is $10 billion dollars. 100x that and you have the tower of $1 trillion that is 465 feet tall (142 meters).
Bank of New York Mellon
BNY has a derivative exposure of $1.375 Trillion dollars.
Considered a too big to fail (TBTF) bank. It is currently facing (among others) lawsuits fraud and contract breach suits by a Los Angeles pension fund and New York pension funds, where BNY Mellon allegedly overcharged the funds on many millions of dollars and concealed it.
State Street Financial
State Street has a derivative exposure of $1.390 Trillion dollars.
Too big to fail (TBTF) bank. It has been charged by California Attorney General (among other) lawsuits for massive fraud on California's CalPERS and CalSTRS pension funds – similar to BNY (above).
Morgan Stanley
Morgan Stanley has a derivative exposure of $1.722 Trilion dollars.
Its a too big to fail (TBTF) bank. It recently settled a lawsuit for over-paying its employees while accepting the
tax payer funded bailout. Vice Chairman of Morgan Stanley had a license plate that said "2BG2FAIL" on his Porsche Cayenne Turbo. All this while $250 million of bailout money ended up in the hands of Waterfall TALF Opportunity, run by the Morgan Stanley's owners' wives– Marry a banker for a $250M tax-payer cash injection.
The bank also got a SECRET $2.041 Trillion bailout from the Federal Reserve during the crisis, beyond the tax payer bailout.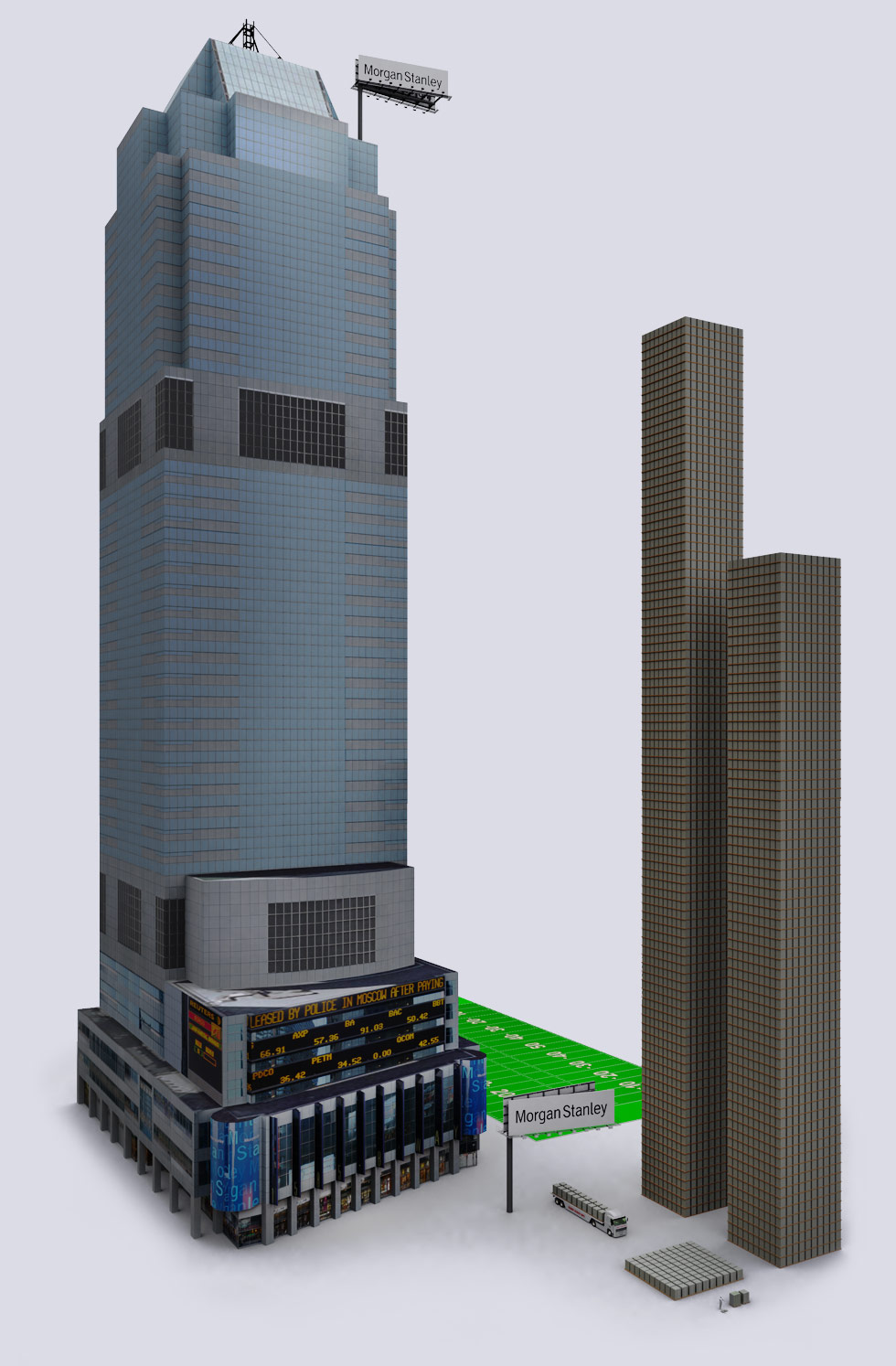 9 Biggest Banks' Derivative Exposure – $228.72 Trillion
Note the little man standing in front of white house. The little worm next to lastfootball field is a truck with $2 billion dollars.
There is no government in the world that has this kind of money. This is roughly 3 times the entire world economy. The unregulated market presents a massive financial risk. The corruption and immorality of the banks makes the situation worse.If you don't want to banks with these banks, but want to have access to free ATM's anywhere– most Credit Unions in USA are in the CO-OP ATM network, where all ATM's are free to any COOP CU member and most support depositing checks. The Credit Unions are like banks, but invest all their profits to give members lower rates and better service. They don't have shareholders to worry about or have derivatives to purchase and sell.Keep an eye out in the news for "derivative crisis", as the crisis is inevitable with current falling value of most real assets.
Derivative Data Source: ZeroHedge 
← Older posts