BLOG
This article is a repost from http://demonocracy.info.  I felt it was extremely helpful for us to understand just how large the derivative market is.
1 Trillion Dollars
$1,000,000,000,000 – When they throw around the word "Trillion" like it is nothing, this is the reality of $1 trillion dollars. The square of pallets to the right is $10 billion dollars. 100x that and you have the tower of $1 trillion that is 465 feet tall (142 meters).
Bank of New York Mellon
BNY has a derivative exposure of $1.375 Trillion dollars.
Considered a too big to fail (TBTF) bank. It is currently facing (among others) lawsuits fraud and contract breach suits by a Los Angeles pension fund and New York pension funds, where BNY Mellon allegedly overcharged the funds on many millions of dollars and concealed it.
State Street Financial
State Street has a derivative exposure of $1.390 Trillion dollars.
Too big to fail (TBTF) bank. It has been charged by California Attorney General (among other) lawsuits for massive fraud on California's CalPERS and CalSTRS pension funds – similar to BNY (above).
Morgan Stanley
Morgan Stanley has a derivative exposure of $1.722 Trilion dollars.
Its a too big to fail (TBTF) bank. It recently settled a lawsuit for over-paying its employees while accepting the
tax payer funded bailout. Vice Chairman of Morgan Stanley had a license plate that said "2BG2FAIL" on his Porsche Cayenne Turbo. All this while $250 million of bailout money ended up in the hands of Waterfall TALF Opportunity, run by the Morgan Stanley's owners' wives– Marry a banker for a $250M tax-payer cash injection.
The bank also got a SECRET $2.041 Trillion bailout from the Federal Reserve during the crisis, beyond the tax payer bailout.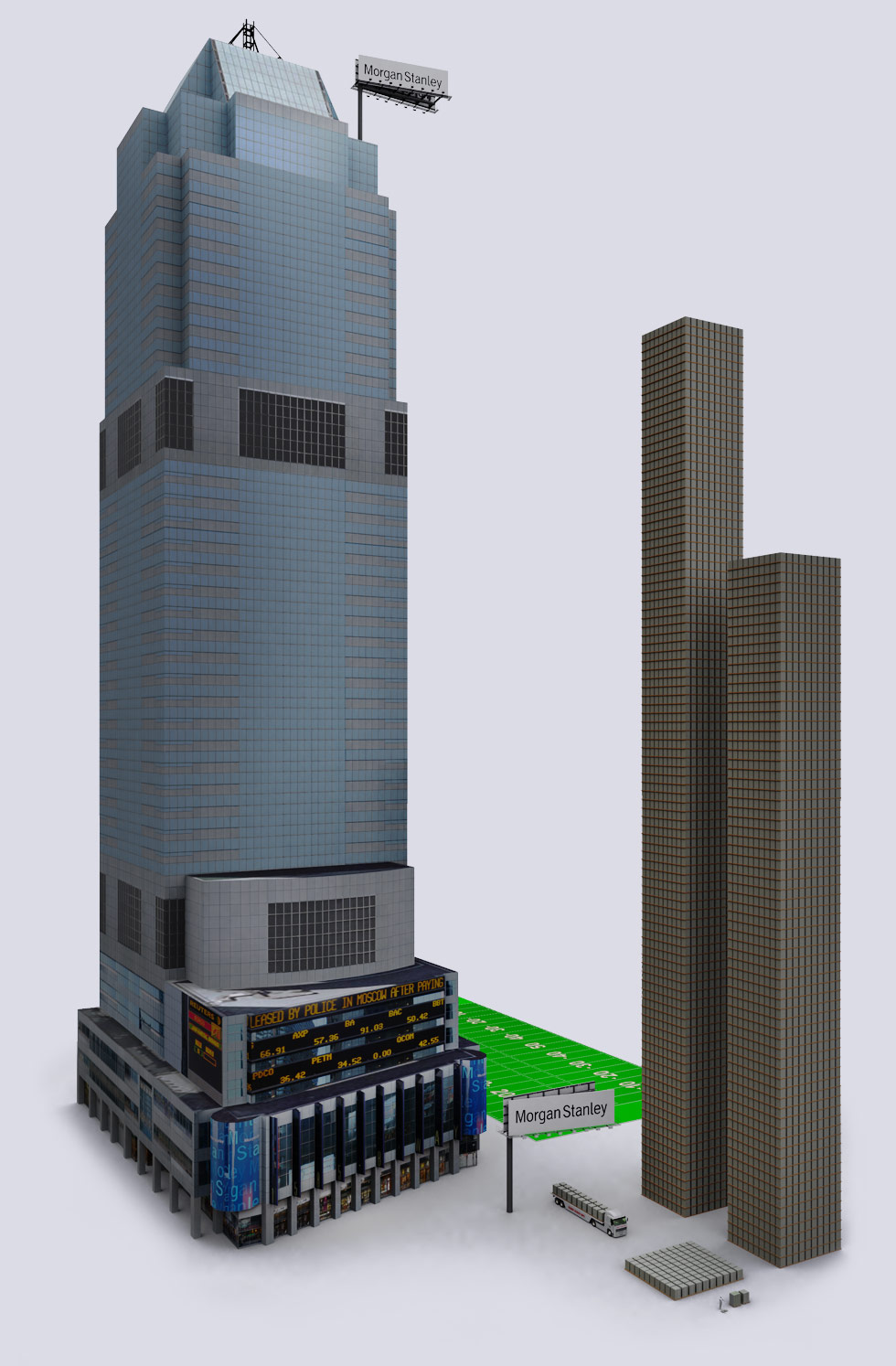 9 Biggest Banks' Derivative Exposure – $228.72 Trillion
Note the little man standing in front of white house. The little worm next to lastfootball field is a truck with $2 billion dollars.
There is no government in the world that has this kind of money. This is roughly 3 times the entire world economy. The unregulated market presents a massive financial risk. The corruption and immorality of the banks makes the situation worse.If you don't want to banks with these banks, but want to have access to free ATM's anywhere– most Credit Unions in USA are in the CO-OP ATM network, where all ATM's are free to any COOP CU member and most support depositing checks. The Credit Unions are like banks, but invest all their profits to give members lower rates and better service. They don't have shareholders to worry about or have derivatives to purchase and sell.Keep an eye out in the news for "derivative crisis", as the crisis is inevitable with current falling value of most real assets.
Derivative Data Source: ZeroHedge