Palladium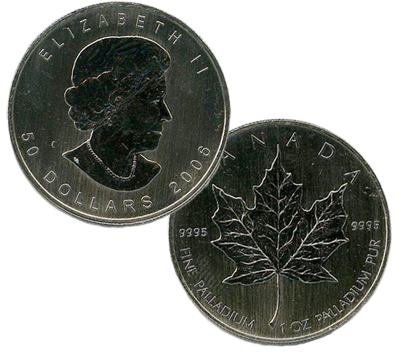 Palladium is a precious metal in the Platinum Group Metals (PGMs), which also includes platinum and rhodium, other common precious metals. Palladium is a silverly-white metal similar to silver, though not nearly as popular among investors as either silver or gold. Because of its unique chemical construction, palladium is commonly used in industrial applications including catalytic convertors, LED's, and other electrical components.
Like gold and silver, palladium is traded on the New York markets at a certain price per troy oz. Palladium is generally bought and sold between investors in coin or bar form (usually 1 or 10 oz bars). The Royal Canadian Mint Palladium Maple Leaf and Pamp Suisse Refinery are among the most popular refiners of investor-grade palladium.
Because of Palladium's heavy industrial value, investors are encouraged to be well acquainted with the unique influences on the palladium market before investing.
Please call us at 713-855-2039  for the latest pricing and availability for our palladium products.
PLEASE NOTE: Prices are subject to change at any time based on market conditions. No order is final until confirmed