Mexican Pesos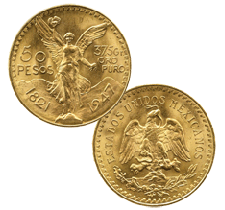 Specifications
Price
Shipping & Handling
Gold Content:

1.2057 Troy Oz

1-19 oz:

Call for quote

1-19 oz:

Call for quote

Total Weight:

1.3396 Troy Oz

20 oz:

Call for quote

20+ oz:

Free shipping

Purity:

.9999

Call for discount on larger quantities
 
Diameter:

37 mm

 
 
Face Value:

50 MXN

 
 
The Mexican 50 Peso gold coin is commonly called the Centenario. This gold coin is unusually large compared to the other gold coins. It contains an alloy of 90% gold (1.2057 troy oz of fine gold) and 10% copper. The coin was first issued in 1921 in commemoration the 100th anniversary of Mexico's independence from Spain.
Though not nearly as popular as the Canadian Maple Leaf, American Eagle, or South African Krugerrand, the Mexican 50 Peso coin is used by investors as a way to buy and sell low premium gold coins (coins that do not carry a large value over the spot price).
PLEASE NOTE: Prices are subject to change at any time based on market conditions. No order is final until confirmed with our sales department.