Gold Kilo Bars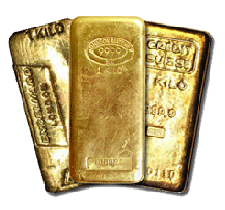 Specifications
Price
Shipping & Handling
Gold Content:

31.15 Troy Oz

1-20 oz:

Call for quote

1-20 oz:

Call for quote

Total Weight:

31.15 Troy Oz

20 oz:

Call for quote

20+ oz:

Free shipping

Fineness:

.999

Call for discounts on larger quantities
 
The "Big Daddy" of all gold investments, gold kilo bars are for the serious gold investor. Containing one kilogram (31.15 troy oz) of .999+ fine gold, the Kilo bars are a low-premium way to buy and sell large quantities of gold.
Popular manufacturers of gold kilo bars include Johnson Matthey and the Royal Canadian Mint.
PLEASE NOTE: Prices are subject to change at any time based on market conditions. No order is final until confirmed with our sales department.