Maple Leaf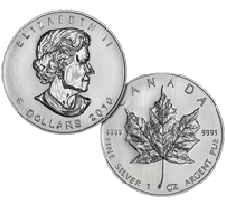 Specifications
Price
Shipping & Handling
Silver Content:

1 Troy Oz

1-499 oz: $2.89-$3.29 over spot
1-499 oz:

Call for quote

Total Weight:

1 Troy Oz

500 oz: $2.79 over spot
500 oz:

Free shipping

Purity:

.9999

 
 
Diameter:

38 mm

 
 
Face Value:

$5 CAD

 
 
PLEASE NOTE: Due to unprecedented market activity and demand for silver, premiums are fluctuating daily and we are providing quotes by phone only. Call us at 713-855-2039 for our latest premiums.
The Canadian Maple leaf is perhaps one of the most beautiful silver coins in the world. Made with 99.99% fine silver, the Maple leaf is one of the most pure silver coins produced, compared to most bullion coins at 99.9% purity. The silver maple leaf has been in production by the Royal Canadian Mint since 1988.
The Maple Leaf has a $5 CAD face value. They are packaged in tubes of 25, and each box contains 20 tubes for a total of 500 coins. (In contrast, the American Silver Eagle comes with 25 rolls of 20 coins per roll in each 500 oz box.) The front of the Silver Maple Leaf shows a picture of a maple leaf, and the reverse side depicts the effigy of Queen Elizabeth II. There are 3 different pictures of Queen Elizabeth used throughout the various years.
PLEASE NOTE: Prices are subject to change at any time based on market conditions. No order is final until confirmed with our sales department.