Canadian Maple Leaf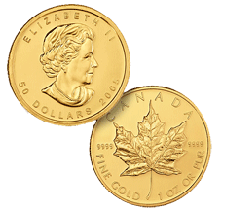 Specifications
Price
Shipping & Handling
Gold Content:

1 Troy Oz

1-19 oz:

Call for quote

1-19 oz:

Call for quote

Total Weight:

1 Troy Oz

20 oz:

Call for quote

20+ oz:

Free shipping

Purity:

.9999

Call for discount on larger quantities
 
Diameter:

30 mm

 
 
Face Value:

$50 CAD

 
 
The Canadian Gold Maple Leaf coin is one of the purest gold coins in the world, with most Maple Leaf coins being minted with .9999 fine 24-Karat gold. Some special commemorative Gold Maples are minted to .99999 purity. Although their high purity does not make them highly conducive to heavy circulation, the Canadian Maple Leaf is loved around the world, and is especially well-recognized in North America.
Minted by the Royal Canadian Mint, the Maple Leaf coins date back to 1979. At the time of their release, the only other popular gold bullion coin in production was the South African Krugerrand. This makes the Canadian Maple Leaf one of the oldest of the modern gold bullion coins. The face value of the Gold Maple Leaf varies based on year. The 2010 Gold Maple Leaf has a $50 face value. Maple Leaf coins minted from 1979-1982 have .999 purity, while all coins after November 1982 have at least .9999 purity.
PLEASE NOTE: Prices are subject to change at any time based on market conditions. No order is final until confirmed with our sales department.