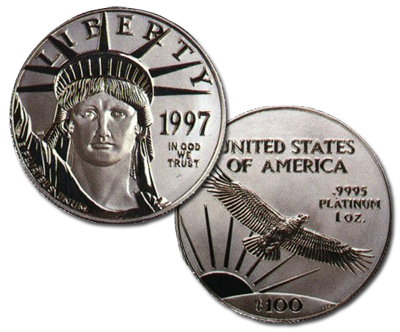 Platinum is one of the most valuable and rare of the precious metals. Its value stems largely from use in manufacturing, which gives it a much shorter history in investments than gold and silver, which have been valued as precious metals for millennia. Platinum's unique chemical composition gives it great electrical stability and resistance to corrosion, even under high temperatures.
Platinum, like palladium, is silvery-white in appearance, and is often mistaken for silver. The majority of platinum mined each year is consumed in the production of automobile emissions control devices (catalytic convertors), although a considerable amount of platinum is used in the manufacturing of jewelry each year.
Platinum is traded on the NYMEX (New York Mercantile Exchange) in New York. The US West Point Mint makes 1 oz, ½ oz, and ¼ oz American Platinum Eagle coins. These coins are a popular way for many American investors to invest in platinum. The Swiss-based Credit Suisse Bank and Pamp Suisse refinery also make 1 oz platinum bars, similar to their one oz gold bars.
Please call us at 713-855-4038  for the latest pricing and availability for our platinum products.
PLEASE NOTE: Prices are subject to change at any time based on market conditions. No order is final until confirmed with our sales department.