Austrian Philharmonic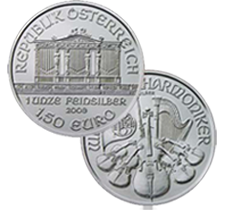 Specifications
Price
Shipping & Handling
Silver Content:

1 Troy Oz

1-499 oz:

Call for latest pricing

1-499 oz:

Call for quote

Total Weight:

1 Troy Oz

500 oz:

Call for latest pricing

500+ oz:

Free shipping

Purity:

.999

Call for discount on larger quantities
 
Diameter:

37 mm

 
 
Face Value:

1.5 EUR

 
 
PLEASE NOTE: Due to unprecedented market activity and demand for silver, premiums are fluctuating daily and we are providing quotes by phone only. Call us at 713-855-2039  for our latest premiums.
Introduced by the Austrian government to the European community in 2002, the silver philharmonic quickly became recognized around the world as an investor-grade bullion coin. The silver philharmonic is a great option for a lower-cost silver bullion coin that still retains good world-wide recognizability.
The silver Philharmonic contains 1 troy oz of .999 fine silver. The silver Philharmonic is legal tender in the European Union for 1.5 Euros, and it is minted in varying quantities every year depending upon demand.
PLEASE NOTE: Prices are subject to change at any time based on market conditions. No order is final until confirmed with our sales department.