American Buffalo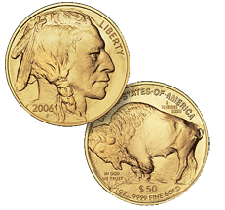 Specifications
Price
Shipping & Handling
Gold Content:

1 Troy Oz

1-19 oz:

Call for quote

1-19 oz:

Call for quote

Total Weight:

1 Troy Oz

20 oz:

Call for quote

20+ oz:

Free shipping

Purity:

.999

Call for discount on larger quantities
 
Diameter:

32.7 mm

 
 
Face Value:

$50 USD

 
 
The American Gold Buffalo was released first by the US Mint in 2001 for investors seeking the ultimately pure gold bullion coin. As a 24-Karat, .9999 Fine Gold coin, the Buffalo is prized by investors for its brilliant appearance and rich design. Because the content of the Gold Buffalo is backed by the United States government, the Gold buffalo is highly liquid and easily sold or converted into cash anywhere in America.
Like the American Gold Eagle, the Gold Buffalo is a $50 legal tender American coin. Buffalos are typically sold by the Mint in plastic sheets of 20 coins, rather than in coin rolls.
PLEASE NOTE: Prices are subject to change at any time based on market conditions. No order is final until confirmed with our sales department.