10 oz Silver Bars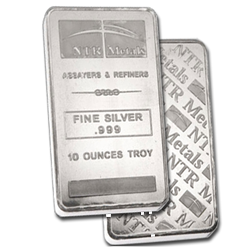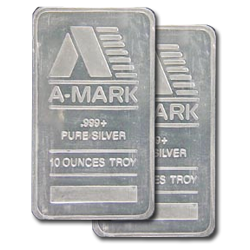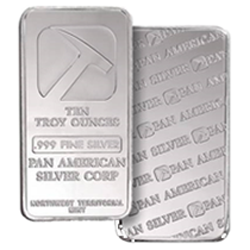 Specifications
Price
Shipping & Handling
Silver Content:

10 Troy Oz

10-490 oz:

$1.29-$1.69 over spot

10-490 oz:

Call for price

Total Weight:

10 Troy Oz

500 oz:

$1.19 over spot

500+ oz:

Free shipping

Fineness:

.999

Call for discount on larger quantities
 
PLEASE NOTE: Due to unprecedented market activity and demand for silver, premiums are fluctuating daily and we are providing quotes by phone only. Call us at 713-855-2039  for our latest premiums.
10 Oz NTR Silver Bars
North Texas Refinery is one of the world's largest refiners of gold and silver. Their 10 oz bar is an excellent choice for the investor looking for a low-cost 10 oz silver bar. NTR 10 oz bars are packaged in plastic sheets for protection. Every bar is assayed and individually stamped with the weight and purity on the surface of the bar.
10 Oz Amark Silver Bars
A-mark has been a respected manufacturer of silver bullion since 1965. Based in southern California, A-mark manufacturers bars in both 100 and 10 oz sizes. The 10 oz silver bars typically come in individual plastic covering. A-mark silver bars are bought and sold around the US in large quantities every year and are an excellent value for investors in low-premium silver bullion. Each 10 oz bar is assayed and stamped with the weight and purity on the surface of the bar.
10 Oz Misc. Silver Bars
Often minted by Wall Street Mint, NWT Mint, Silvertowne, Golden Analytical, or any of the various nationally-known mints, miscellaneous 10 oz bars can provide an excellent balance of price and utility. Call us for price, hallmark, and availability of various brands of 10 oz bars.
PLEASE NOTE: Prices are subject to change at any time based on market conditions. No order is final until confirmed with our sales department.