1 oz Silver Rounds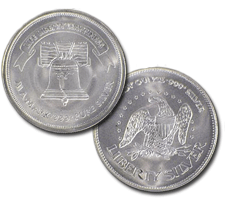 Specifications
Price
Shipping & Handling
Silver Content:

1 Troy Oz

1-499 oz: $1.39-$1.79 over spot
1-499 oz:

Call for quote

Total Weight:

1 Troy Oz

500 oz:

$1.29 over spot

500+ oz:

Free Shipping

Fineness:

.999

Call for discount on larger quantities
 
PLEASE NOTE: Due to unprecedented market activity and demand for silver, premiums are fluctuating daily and we are providing quotes by phone only. Call us at 713-855-2039 for our latest premiums.
If a 1 oz coin is not made by a national mint, then it is typically referred to as a generic silver coin or round. These 1 oz coins are comparable to silver maples, eagles, etc., but they are made by private refineries instead. These 1 oz coins typically have very competitive prices over spot, and yet are valued for their small size and easy tradability.
These coins are minted with .999 fine silver and are stamped as such on the surface on the coin, usually the front or back, although sometimes on the side edge of the coin. Common manufacturers include A-mark and Golden State Mint.
PLEASE NOTE: Prices are subject to change at any time based on market conditions. No order is final until confirmed with our sales department.