1 oz Silver Bars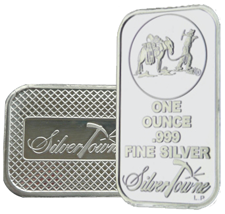 Specifications
Price
Shipping & Handling
Silver Content:

1 Troy Oz

1-499 oz:

Call for latest pricing

1-499 oz:

Call for price

Total Weight:

1 Troy Oz

500+ oz:

Call for latest pricing

500+ oz:

Free shipping

Fineness:

.999

 
 
PLEASE NOTE: Due to unprecedented market activity and demand for silver, premiums are fluctuating daily and we are providing quotes by phone only. Call us at 713-855-2039 for our latest premiums.
These 1 oz bars are enjoyed by collectors and bullion investors alike. Their 1 oz size and attractive design make them a favorite for small collectors who enjoy this beautiful, yet very tradable form of silver.
The 1 oz bars are made with .999 fine silver and are made by Silvertowne, an Indiana-based refinery.
PLEASE NOTE: Prices are subject to change at any time based on market conditions. No order is final until confirmed with our sales department.